medium duty
cantilever racks
---
BR medium cantilever racks are suitable for both manual and mechanical loading of longer goods such as timber packs, drywall, tubular profiles, beam steel and construction parts in case of manual loading of heavier goods.
---
The medium cantilever racks are available in both a single and double-sided version and are supplied as standard with a height of 2 to 3½ meters with steps of 500 mm and can be equipped with support arms with a length of 500, 600, 700 and 800 mm with various carrying capacities.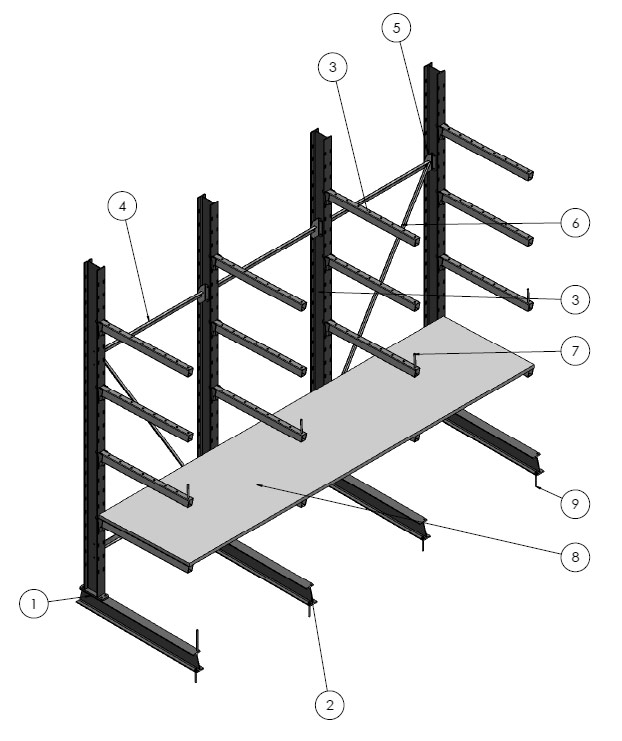 1. Column
2. Cantilever
3. Upright foot
4. Horizontal brace
5. Cross bracing
6. Cantilever End stop
7. Wooden fibreboard
● Columns, feet and arms finished with epoxy powder coating
● Columns and feet color RAL 5015, arms RAL 2004
● Bracing sendzimir galvanized
● Galvanized for outdoor storage
● Support arms adjustable per step of 100 mm
● For single-sided and double-sided use
● Suitable for manual loading
Standardisation
BR medium cantilever racks are designed in accordance with the most current standards. The most important ones are shown below.
NEN 5052 Storage racks - purchase data assembly and use
Eurocode 0 Accounting policies
Eurocode 1 Taxes on constructions
Eurocode 3 Design and calculation of steel structures
NEN-EN15629 Steel static storage systems - Specification of storage equipment
NEN-EN15635 Steel static storage systems - Application and maintenance of storage equipment
RAL-RG 614 Lager- und Betriebseinrichtungen, Gütesicherung
Photo gallery